What are Poles of Inaccessibility?
What are Poles of Inaccessibility?
Poles of Inaccessibility in simple terms are points on the map that are the furthest from a boundary. That boundary could be the sea, in the case of an island, a political boundary in the case of a country or, of course, both.
A PIA is located at the most distant point from the boundaries within a given area. This means that a PIA is not necessarily the geographical centre of the same area (Centre of Gravity), as shown by red points in the image below. But rather those shown by the green points.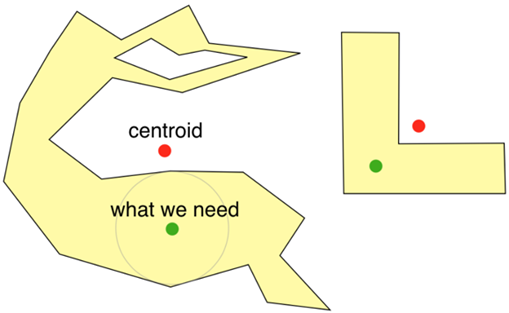 The Poles of Inaccessibility theory can therefore be applied to any area – since all areas, no matter how big or small, have boundaries. In theory, you could calculate the PIA for your pond at home, or for a child's sandpit.
Inaccessibility.net are suggesting that points falling into this criteria should be labelled instead as Points of Inaccessibility rather than poles.