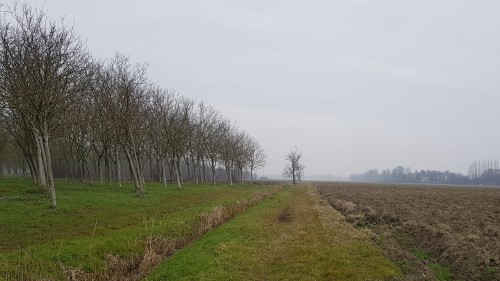 The Italian Point of Inaccessibility is a farmer's field just outside the village of Borgo Virgilio in the Province of Mantua.
The exact location of the Italian PIA is at:
Latitude: 45° 6.578' N
Longitude: 10° 50.584' W
Distance from border: 65.3 miles
These coordinates lead you to farmland next to a walnut grove.
Location of the Italian Point of Inaccessibility
The area, in common with many POIs, is flat with very fertile soil. That, combined with good irrigation dating back to the Middle Ages, makes agriculture the main local economy. Main crops include wheat, maize, rice, sugar beet, potatoes and vegetables. The local towns, however, are more dominated by heavy industry, the area's secondary economy. Driving to the point, it seems much of that industry is in decline; there's a lot of empty buildings and closed factories in the area.
Getting to the Italian Pole
Date Visited: 31st January, 2020
Visited by: Chris Brown
Weather: 12 Celsius/53 Fahrenheit. Foggy.
Coordinates Achieved: 45° 6.578' N, 10° 50.584' W
Distance from Pole: Zero metres. Exact Pole Achieved
The Italian POI was the third on a long drive around Europe which included the French and Liechtensteiner POIs. However, I arrived from Innsbruck, Austria, along the E45 and going through The Brenner Pass. Luckily the road is mostly dual carriageway as one lane was dominated by lorries for almost the entire 320km journey.
Approaching the point, I'd advise against going through Mantua which suffers from congestion.
The roads close to the point are narrow but do allow two-way traffic quite comfortably. There are few hedgerows and the whole area seems exposed. I'd wager the winds howl across in winter.. My journey was in late January, so no crops were growing in the fields and most seemed to have been recently tilled.
Via Virgiliana is the closest road to the point and offers a few places for parking. It certainly wasn't obvious which farm owned the land on which the point lay. I approached a couple but didn't see a single sign of life.
The different 'fields' are separated by un-ploughed tracks, which are probably used for gathering the crops. With the view that it is often better to ask for forgiveness than to ask for permission, I used a couple of intersecting tracks to access the exact POI.