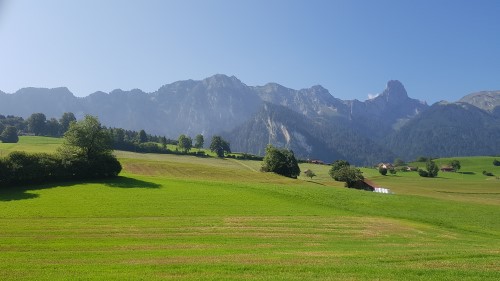 The Switzerland Point of Inaccessibility can be found on a picturesque mountainside approximately 25km south east of Bern, west of Lake Thunersee. The closest village is Amsoldingen.
The exact location of the Swiss PIA is determined to be at:
Latitude: 46° 43.332' N
Longitude: 7° 35.566' W
Distance from border: 39.7 miles
These coordinates were calculated by Miso for Chris Brown in July 2019.
Location of the Swiss Point of Inaccessibility
The Point is in a private field, close to a clump of trees behind a dwelling at No5 Hirseren Road. You will need permission from the landowner to visit this PIA
The area is extremely picturesque with almost every building worthy of being on the front of a chocolate box. It is ideal cycling territory with small meandering roads working their ways up ever steepening mountainsides.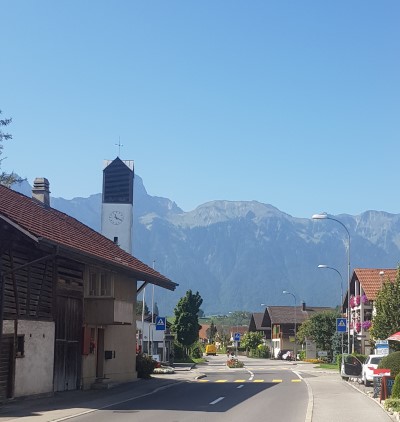 Getting to the Swiss Pole
Date Visited: 30th August, 2019
Visited by: Chris Brown
Weather: 24 Celsius/75 Fahrenheit. Another pleasant summer's day with a few clouds.
Coordinates Achieved: 46° 43.332' N, 7° 35.566' W
Distance from Pole: Zero metres. Exact Pole Achieved
This journey began in Lausanne which we were visiting for the ITU World Triathlon Championship Finals. There's lots of race admin to be done, like registration, briefings and bike racking but also plenty of down time before the races. So what better to do than visit the Swiss PIA?
The 142km car journey out to Amsoldingen was pretty uneventful and took around 1hr 45 mins.
My observation would be what a joy it is to drive on Swiss roads. They are smooth and very well maintained. They haven't been dug up 500 times by utility companies or been badly potholed from poor construction. Given the extremes of temperatures you get in these mountains, a few other countries could learn lessons from the Swiss Highways.
The route to the PIA also passes close to Wankdorf.
Dorf is the German word for 'village'.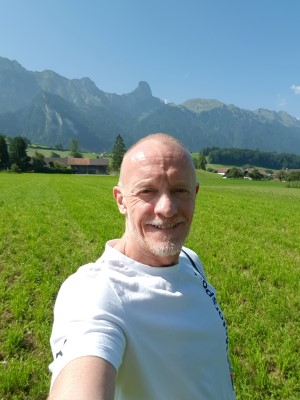 Approaching the Pole, both Google and the car's sat-nav had a bit of a meltdown, sending me in circles around the small windy roads of the area. So I resorted to the handheld GPS a little earlier than normal.
On arrival at the closest building on the south side of the pole, on Hiseren road, I was pleased to see a car at Number 5. From satellite pictures it looked like the land belonged to this house. My backup plan would have been to approach from the North where a building at the end of Hirseli road would have offered access close to the pole.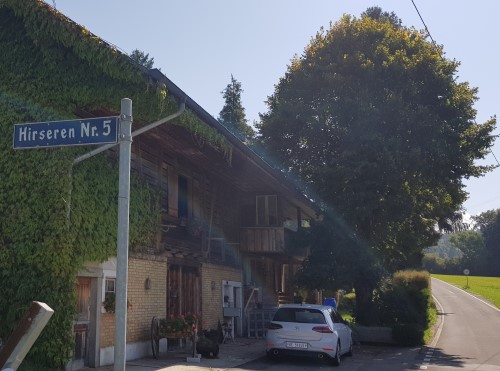 After a couple of knocks at #5, an old lady answered. There are three main languages used in Switzerland; French, German and Italian. I can speak French reasonably well and muddle my way through in German, but have no Italian. So you can guess what language the lady of the house spoke. Yep, Italian.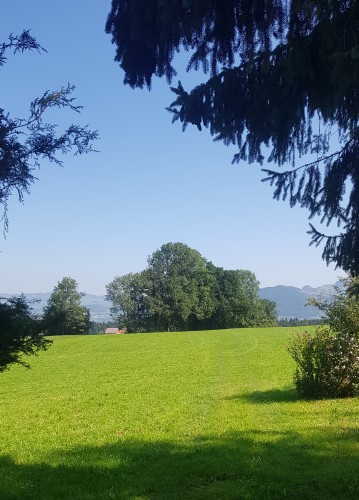 Luckily she understood some French, so we muddled our way through the explanation that her little field was somewhere special. She agreed to meet me out the back of the property and we set off across the field. Unfortunately she was a little infirm on her feet and combined with the heat of the midday sun, she found she couldn't make it the 80m across to the pole. However, she gave me permission to continue.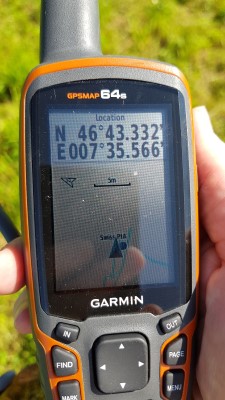 As a result, I managed to find the exact PIA and take in the magnificent views.