Hard Rock Island (Maldives)
Hard Rock Island (Maldives)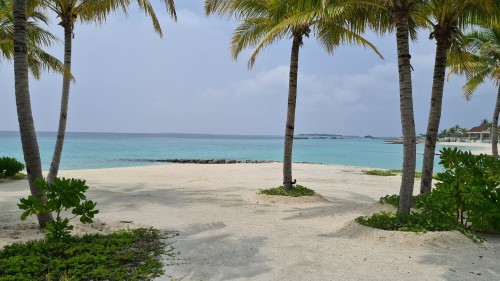 The Hard Rock Island Point of Inaccessibility Isn't the best part of the island, and can be found at:
Latitude: 4°07'25.9″N
Longitude: 73°28'22.2″E
These coordinates were calculated by Chris Brown in November 2020.
Map of Hard Rock Island's Point of Inaccessibility
The Hard Rock Maldives is a private island and luxury beach resort about 15 minutes in a speedboat from Malé airport tucked away in the beautiful Emboodhoo Lagoon. There's not much by way of exploration to do once you've familiarised yourself with all the restaurants and taken the wooden bridge over to the two neighbouring Islands known as "The Marina @ Crossroads" and SAii Lagoon.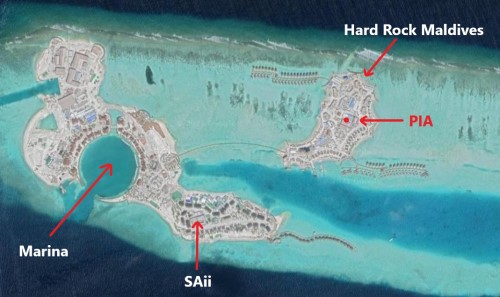 You'll find plenty of sandy beaches and picturesque over-water villas. By way of adventure, you are somewhat 'limited' to water sports (snorkelling, scuba diving, jet skis, kayaks) and Spa treatments.
Getting to the Hard Rock Island Pole
The Point of Inaccessibility for the island is not easy to calculate accurately. There are no scaled maps for the Island and the boundaries vary significantly with tides.
However, with the Island being small, the inaccuracies are also small.
To calculate the PIA we used an aerial satellite image to get the rough location then used a simple Distance Measuring Wheel to split the longitude and latitudes at high tide.
Visited by: Chris & Mika Brown
Weather: 25 Celsius/77 Fahrenheit. Cloudless skies.
Coordinates Achieved: 4°07'25.9″N 73°28'22.2″E
Distance from Pole: Zero metres. Exact Pole achieved
The Hard Rock PIA can easily be reached simply by walking. This Point isn't, by far, the most picturesque part of the island. Instead, it lies next to some maintenance buildings and a plant nursery.