South Africa
South Africa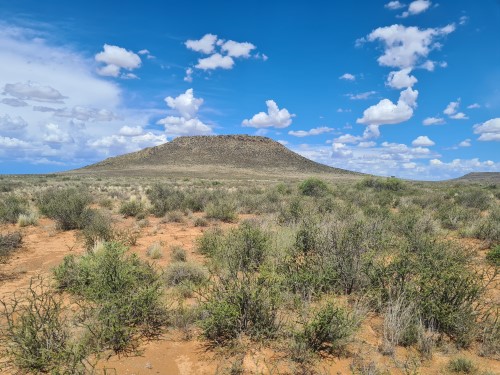 The South African Point of Inaccessibility lies the Great Karoo, a semi-desert plateau in Western Cape province with an annual rainfall of around 50-250mm.
Latitude: 30° 14.5080'S
Longitude: 23° 18.5952'E
These coordinates were calculated by Miso in July 2019.
Mapped Location of the South African Point of Inaccessibility
The ZA Pole of Inaccessibility is approximately 45km North North West of Britstown and small farming town with a population of just 5,000, in the Pixley ka Seme District Municipality, Emthanjeni Local Municipality. The town is named after Hans Brits (not the British!) who accompanied a more famous friend, David Livingstone, on one of his ventures to the South African interior.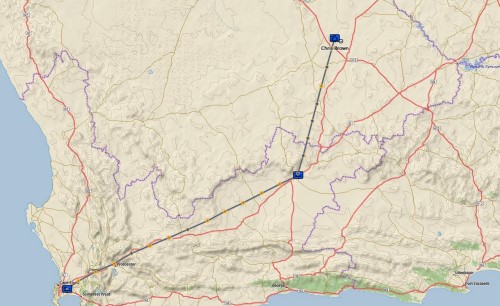 Getting to the South African Pole
The trip to the South African Pole was a quick addition to our successful venture to the Antarctic continental Pole in January of 2023. We only had one day to complete the expedition, which pretty much ruled out a road trip on the N1 from Cape Town. Even without encountering any problems and not accounting for off-road driving it would have taken us more than eight hours each way non-stop in sweltering heat. So, we opted for what seemed like the easy way out and chose to travel by helicopter.
On paper it should have been a simple trip; fly from Cape Town to Beaufort West airstrip, refuel, then on to the pole, with another stop at Beaufort on the return journey. However, the heat and headwinds on the way back were intent on having a say. The heat meant the helicopter had trouble taking off with enough fuel to make each leg of the trip, particularly from BW to the POI.
At one point we were faced with the possibility of falling 10km short of our target, or running out of fuel on the way back and then having to hitch along the N1 for fuel. Naturally we chose to reach the pole and leave our future selves to deal with the consequences.
Fortunately, our pilot, James Blomerus, figured out flying low over the ground at about just 50ft increased ground speed just enough to make get us back safely with around only 35kg of fuel to spare.
Date Visited: 20th January, 2023
Visited by: Mika Brown and Chris Brown
Weather: 37 Celsius/99 Fahrenheit. Blazing sun with sparse cloud.
Coordinates Achieved: 30° 14.5080'S, 23° 18.5952'E
Distance from Pole: Zero metres. Exact Pole achieved